Editorial Reviews
It's so important to have a catchy review on the front and/or back cover of your 'soon to be published' or 'recently published' book. And, of course, on your Amazon Book Page under Editorial Reviews.
Click on the book title links below to see some of the editorial reviews we have organised for authors. If you would like us to organise a review for you, simply click here.
Babouc's Vision

By Glenn Searfoss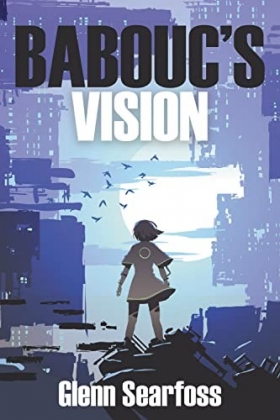 Buy on
Amazon
A WISHING SHELF BOOK REVIEW
30th December 2021
TITLE: Babouc's Vision
AUTHOR: Glenn Searfoss

Star Rating: 4

CATCHY QUOTE
'Insightful, intelligent; the sort of story that will stay with you for a long time. Highly recommended!' The Wishing Shelf

REVIEW
My job is to tell you if Babouc's Vision by Glenn Searfoss is a good book or not. And my job is to do that in approx. 300 words. I tell you now – it's impossible. But I will do my best. First, the simple bit – yes, it's good. Very good. In terms of writing style, the characters, and the complexity of the futuristic setting, the author has excelled. Although many readers might find it a little depressing (the world in this novel is not looking the best!), it's introspective (in a good way) and even playful too – and there's a tiny element of hope hidden away in there that's refreshing.
So, to the plot. In a nutshell, Harl Babouc is given a job by the gods: he must report on humanity; how good/bad/terrible it now is, so they can decide where it should be destroyed or not. If this all seems very dark and depressing, to be honest, it is! This is not a 'light' novel. Trying to find anything redeeming in humanity today can be difficult; trust me when I tell you things have corkscrewed a long way down by 2041 when this novel is set.
All in all, I enjoyed his book. It's a compelling story full of characters the author very much wants the reader to get to know and, importantly, to understand. Although it was all a bit depressing for me – and a bit sluggish in the middle – there's a lot in here for the reader to contemplate and discuss with others. Many might think the world is going this way now, and any novel which highlights this is welcome on my bookshelf.
To sum up, post-apocalyptic/dystopian lovers will find this very much of interest. They will delight in the strong imagery, the fully developed characters – particularly Babouc as he attempts to protect the citizens of Cyncity – and the wonderful complexity of the futuristic city. It's not often I find a new author to enjoy…
…but I think I just did.

A 'Wishing Shelf' Book Review
www.thewsa.co.uk

Sponsored Ads
As the Daisies Bloom
A loving exploration of
generosity, peace and hope
Amazon
---
Redefining Normal
Two Foster Kids Beat the Odds
Discovering Healing, Happiness
www.re-definingnormal.com
---
Fraud at Snowfields
Join Will at the White
Christmas Organisation!
www.amazon.co.uk
---
TRIVIA BOOKS
Educational and Entertaining.
In audio format! Bestseller!!!
www.raiseyourbrain.com
---
COLONY
A mist-shrouded island with
an ancient terror at its heart
www.benjamin-cross.com
---
Orc Road Trip
"Punching isn't the answer,"
said no orc ever.
www.amazon.com
---
I AM ME
Sensitive picture book 3-7,
profit spent on child refugees
www.suehamptonauthor.co.uk
---
PUBLISH YOUR BOOK!
Complete self-publishing
package from just £797.
www.theprooffairy.com
---
FACE, A MEMOIR
A harrowing and life-affirming
memoir. It will draw you in.
Amazon
---
THE FLOATING UMBRELLA
There could be more
than meets the eye.
www.amazon.com
---