Meet Billy Bob Buttons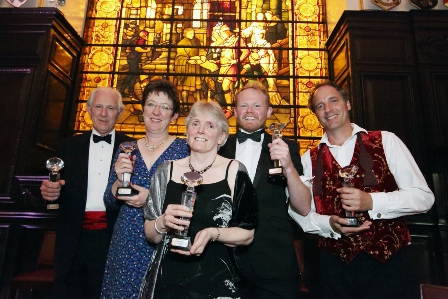 Billy Bob Buttons is a young talented author. On top of being a secondary school English teacher, he is also a pilot.
Born in the Viking city of York, he and his wife, Therese, a true Swedish girl from the IKEA county of Småland, now live in Stockholm and London. Their twin girls, Rebecca and Beatrix, and little boy, Albert, inspire Billy Bob every day to pick up a pen and work on his books.
When not writing, he enjoys tennis and playing 'MONSTER!' with his three children.
He is the author of the much loved, The Gullfoss Legends, Rubery Award finalist, Felicity Brady and the Wizard's Bookshop, UK People Book Prize runner-up, TOR Assassin Hunter and TOR Wolf Rising, I Think I Murdered Miss is his ninth children's novel.
Here he is (far right) winning the 2014 UK People's Book Prize.
The Hungry Grasshopper
Pathers CHEW on spider leg STEW, alligators CHOMP on frogs in a SWAMP, dogs GOBBLE puddings that WOBBLE and cows SLURP and always BURP.
'A delightfully sweet, rhyming story.' Best Books for Kids
'A wonderfully witty story from the wonderfully witty Billy Bob Buttons.' The Independent
I Think I Murdered Miss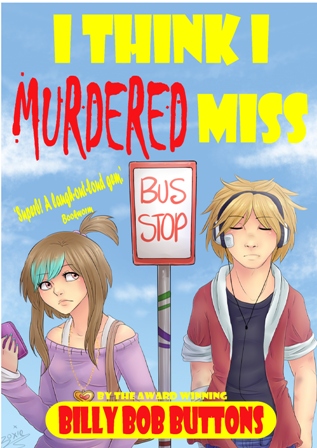 WINNER OF THE UK PEOPLE'S BOOK PRIZE, 2014
My name is Simon Spittle and I think - no, I know, I murdered Miss Belcher. I don't carry a gun. Or a knife. Or even a toothpick, but yesterday, in French, I wished for her to be run over by a bus and, later that very day, she was. A big, red double-decker with yellow wheels and a picture of a clown on the bonnet. A Billy Smart's Circus bus.
Your child with love this book. And, to be honest, so will you.' HI5 MAGAZINE
'This is a very funny book. Billy Bob Buttons is a top-notch children's writer.' ECLIPSE MAGAZINE
'Superb! A laugh-out-loud gem.' BOOKWORM
Drowning Fish
THE HUNTER: Sinjin Fury, a power-crazy wizard with a horrifying army of VERY crazy Glumsnappers.
THE HUNTED: Simon Spittle, a Star Trek-obsessed loner with the IQ of a chemistry professor, the temper of a monster with tooth rot and the gift to kill with a wish.
HIS PROTECTOR: Isabella, a street-smart Seeker who knows Simon's the key to, well, SAVING THE WORLD!
The follow-up to the fantastic I THINK I MURDERED MISS.
'Sweet, funny and totally unputdownable.' YA BOOK NEWS
Grandads Slippers
The Boy Who Piddled in his Grandads Slippers
Ralph is always piddling everywhere. He drenched Mummy's sheepskin rug. He filled Daddy's boots. He even took a tinkle in his sister's Coco Pops. But can Ralph be the hero nobody expects him to be?
'I chuckled so much my belly hurt.' BOOKS FOR KIDS
'A rhyming gem.' STORY BOX
'Very, very funny and very, very sweet. A modern classic with a twist. Boys will love it.' TONS OF FUN
Tiffany Sparrow Spook Slayer
My name is Tiffany Sparrow and my job is to slay spooks. It can be messy work, but I enjoy it. Mostly. I get to do a lot of travelling which is fun, but often just to crumbling tombs and spidery cellars. My mum was a slayer too; and so was my grandmother. I miss them terribly. They were killed, you see, by Grimdorf the warlock, so now there's only me and my old grandad left.
But the word on Voodoo Street is...Grimdorf's back.
And he's brought a few of his pals with him.
'Wonderful penmanship.' TONS OF FUN
'Tiffany is the sort of girl every girl wants to be. Cool, funny and a scythe-weilding, kong fu-kicking spook slayer.'' SCHOOL NEWS
Muffin Monster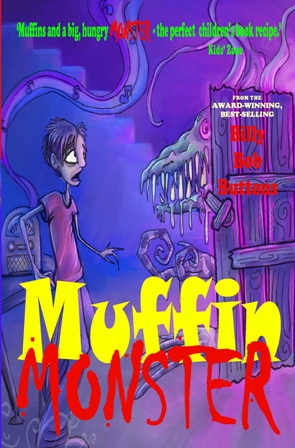 When Albert's grandad asks Albert to help him in his muffin shop, he's over the Moon. But there's a problem. A big, slimy problem. There's a monster in the cellar and he's a big fan of all things sweet!
'If you enjoy Roald Dahl's books, you'll enjoy this.' BOOKS 4 KIDS
'Fuuny bits, thrills and a hefty dash of the absurd. Wonderful stuff!' ECLIPSE
Tor Assassin Hunter
The year is 1870. Major Tor, a mercenary and deadly sniper, is called from battle to stop Locust, a SWARM assassin who is plotting to murder the King of Sweden.From the rubble and watery craters of France to the shadowy corridors of Stockholm's old castle, Tor must discover who the assassin is and put a stop to his, or her plan to throw a country into a barbaric and bloody war.
Accompany him if you dare into a world of bayonets and bullets, where the enemy's sword is forever chasing your shadow.
But remember this, when you hunt assassins... ...trust nobody.
'So many twists, I felt dizzy.' BOOKWORM
TOR Wolf Rising
A volcano of fury is stirring, trapped only by the thinnest crust of skin and willpower. The spirit of the hamrammr is in my blood...
EVIL BECKONS
'A jaw-dropping, cracker of a book.' ECLIPSE
'Dan Brown for kids!' BOOK BLAST MAGAZINE
The Gullfoss Legends
Over a century ago, a twelve year old girl walked 120 kms to Reykjavik to persuade the King to help her. Her journey lasted two weeks; two weeks of wild snow storms, skin-blistering winds and deadly clouds of volcanic ash. This is her story.
The British plan to put a dam on Gullfoss, a magnificent waterfall in Iceland, but Sigridur plans to stop them. Setting off to see the King, she must face scalding pools of hot mud, a scary wolf-man and the most evil of assassins, the ruthless Scarecrow, who must stop her at all costs.
Based on the Gullfoss Legends, this is a story for anybody who has battled but refused to give up.
'Dazzling!' Kidz BOOK CLUB
Galibrath's Will BOOK ONE
Galibrath's Will BOOK ONE (Felicity Brady and the Wizard's Bookshop)
The day Felicity Brady discovers The Wishing Shelf, a magic bookshop in the small town of Twice Brewed, is the day her life is altered forever. A helpful clock and a mulish door allow her to travel to different lands where she plays Vipers and Stepladders, pilots flying carpets and visits creepy Cauldron City. There's a krakor thunder serpent, waltzing books, even a copy of 'Be Warty, Be Proud' sitting on the cistern in the loo. Armed with an inquisitive mind and the magical skills of a wet doyley, Felicity must face monster dorfmorons, woolly glumsnappers and powerful wizards. But lurking in the shadows, watching her, is the most evil monster of them all, the terrible shubablybub. And she keeps reminding everybody, 'In school, they only teach us netball.' Life is very complicated for Felicity Brady.
Articulus Quest BOOK TWO
Articulus Quest BOOK TWO (Felicity Brady and the Wizard's Bookshop)
FINALIST IN THE RUBERY BOOK AWARDS 2011
If you don't go, Felicity; if you don't get Articulus back, there will be a terrible war in this land.' The gargoyle rested his claw on her shoulder. 'Galibrath left the book to you and now it is up to you to find it and return it to The Wishing Shelf. Remember, in the wrong hands it could destroy...everything.
'Full of magic and adventure. Harry Potter fans will love it.' RUBERY BOOK AWARD
'Charming! Made me wish I was young so I could find a magic bookshop of my own.' KIDS BOOKSHELF
Incantus Gothmog BOOK THREE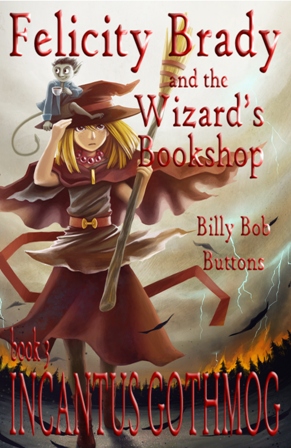 Incantus Gothmog BOOK THREE (Felicity Brady and the Wizard's Bookshop)
FINALIST IN THE RUBERY BOOK AWARDS 2011
Gothmog is a fool, but fools can be dangerous. He knows you can destroy Articulus, Felicity. So you must crush him. Crush him or he will crush you.
'Felicity Brady keeps getting better!' BOOK A DAY
Glumweedys Devil BOOK FOUR
Glumweedys Devil BOOK FOUR (Felicity Brady and the Wizard's Bookshop)
FINALIST IN THE RUBERY BOOK AWARDS 2011
Felicity dropped to a whisper. 'The thing is, I plan to go monster hunting in the morning so I need a bit of a 'pick me up'. I may even have to run.
So you can catch it?
God, no!' Felicity looked shocked. 'So I can leg it.
Crowls Creepers BOOK FIVE
Crowls Creepers BOOK FIVE (Felicity Brady and the Wizard's Bookshop)
FINALIST IN THE RUBERY BOOK AWARDS 2011
It was night, the bats in the rafters awake and watchful. But all seemed still, most of the monsters asleep or on sentry duty by the bookshop door. But not everything slept. Hidden in the deepest corner of The Wishing Shelf, over a hundred books had gathered, answering the call to arms.
The 'Witch Spotter's' book, perched on a top shelf, hushed them. 'Brothers and sisters," she whispered, "wickedness has invaded our home. Queen Blasthoof is slowly destroying our papery world, but not for much longer for soon we will stop her.'
'A thrilling end to the Felicity Brady books.' STORY BOX
Wide Awake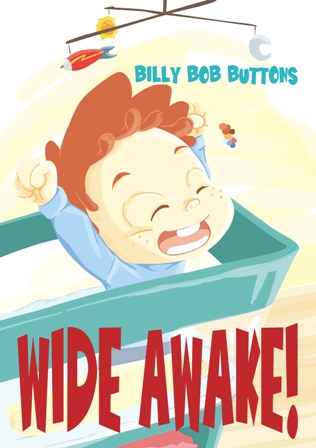 Ralph's woken up and wants to play. But Daddy's still snoring in his bed. No problem! With the help of his trumpet, a very smelly nappy and three spiders in a box, Daddy will soon be wide awake!
'Kids will love it. Dads, not so much.' Story Box
Sponsored Ads
Comfort in the Wings
An inspiring, heartfelt
journey of joy after loss
Amazon
---
Winds of Discontent
Gun running, investigative
reporter and Yvonne
Amazon
---
Your Words Your World
Inspirational poetry book
with nature photographs.
www.louisebelangerauthor.com
---
Aunty Jane Knits Up A Storm
Knitting, Friendship, Loss &
Healing in a Children's Story
Amazon
---
The Girl Who Looked Beyond...
13 yrs old. How can she have
a destiny to save the world?
Amazon
---
A Lady Newspaperman's Dilemma
Alex's goal: succeed in a 1926
male world of news reporting
Amazon
---
Be Happy to Be You, Diane Hull
Baby bird must find a way of
being happy with who he is
Amazon
---
Of the Noble and Great Ones
Real fiction about an autistic
teen who figures out life
Amazon
---
PROSE, POETRY AND MEDITATION
'...warmth, passion, insight &
thought-provoking scenarios."
Amazon
---
STORY AND STRUCTURE
THE book on story for writers,
storytellers from Leon Conrad
leonconrad.com
---
Butterfly with a Broken Wing
Children's mental health story
It's ok NOT to be ok
Amazon
---
HUNGRY TRAILS
'A…culturally rich family
chronicle.' Kirkus Review
Amazon
---
The Lost Heir Book 1 and 2
Mash Princess Bride
+ dash of GOT
Amazon
---
PICTURE THE ALPHABET
Find over 150 objects, learn
letters & build vocabulary.
Amazon
---
Me and My Shadow
Honest reflection how cancer
took a boy to death's door.
Amazon
---
Fit to Eat
Empower yourself to age
without chronic diseases.
Amazon
---
PLAYING SOLDIER
An unflinching tale of
nourishing self-acceptance.
Amazon
---
My Solo Wedding in Santorini
A true story. Honest,
thought-provoking & funny .
blogaboutl
---
SeaMouse Builds a Boat
Mouse must find EVERYTHING he
needs to BUILD his boat.
Amazon
---
Rainbow Cat and Mouse
How a hungry cat and a feisty
mouse become best friends
Amazon
---
THE S.O.U.R.C.E.
Marine Animals, Kids
Miracle Escape, Powerful Messa
Amazon
---
REVOLUTION: A NOVEL
Comical misadventures in
modern Los Angeles
Amazon
---
Aunty Jane Knits Up A Storm
Loss & healing through friend-
ship knitting and community.
Amazon
---
A Voice from Heaven
Astounding secrets of life,
death, love and spirituality
wingsofpeacepress.com
---
THE TIFFIN
Lost tiffin. Note gone astray.
A boy's search for family.
Amazon
---
Einstein in the Attic
A search for truth by
those that transcend time.
Barnes and Noble
---
Somewhere in Yorkshire
A humorous, award-winning,
children's adventure.
Amazon
---
Seeking Shelter
Memoir of a Jewish Girlhood
in Wartime Britain
Amazon
---
Peak Brain Plasticity
Boost Brain Power
Boost Brain Power
With Neuroscience
---
Emilie by Ingrid Ramsdale
Gripping historical adventure
brimming with emotion
Ingrid Ramsdale
---
The Halloween Candy MONSTER
Jimmy teaches the Halloween
candy monster a lesson
Amazon
---
MATTER PRESS
Compressed fiction
with a bang
Matter Press
---
The Nephilem
A Sun-soaked setting
with a difference.
www.exquil.com
---
Children of the Knight
When the children rise,
will the city fall?
Amazon
---
Fenix and the Firework Fliers
Can Fenix save the Fireworks
when a firefly gets sick?
creativemovementstories.com
---
The Last Spiritwalker
Blood, magic, myths &
a badass female lead
Amazon
---
CITRUS by Tabitha Kumwembe
Join Captain Alexis Creed on
her quest to conquer evil!
Amazon
---
The Silence of Children
An accidental vigilante with
no superhero skills
Amazon
---
The Open Book
A family memoir of adventure,
trauma, & resilience
Amazon
---
Ian's Realm Saga
A 7 book adventure fantasy
series for the family.
gardnersart.com
---
Plague of Flies
A young Latina fights to save
her people and land.
Amazon
---
Meet the Snozzeralls
Fun & Educational
Kids Picture Book
Amazon
---
The S.O.U.R.C.E.
6Awards-FABLE-8-12/
Sea Animals/Kids/Pollution
Amazon
---
GRAVE SECRETS-Cassandra Aston
The dark fantasy you've
been waiting for
Amazon
---
Children Who Dance in the Rain
A children's book about
gratitude and self-discovery.
Amazon
---
Chains of Prophecy
A man finds he is the chosen
sorcerer of Heaven.
Amazon
---
THE CURIST
Abby Steel hunts an evil
killer. Can he be caught?
Amazon
---
Ships in the Desert
Timely, illuminating, and wise
—Julian Hoffman
Amazon
---
The Putaway Monster
A delightful mystery to
solve as toys disappear.
Amazon
---
Puppy Pals and Puppy Tales
Letters from the family
dog's point of view, 5-9 yrs.
Amazon
---
A God-Centered View of Salvati
The vital importance of
putting God first in salvation
Amazon
---
Code of Rainbow Series
An Epic teen fantasy series
that links MAGIC with SCIENCE
Amazon
---
Day & Night
A behind the scenes tour
and evening immersion!
Amazon
---
A HARD SILENCE
Grief, love, and learning to
speak the unspeakable
www.vineleavespress.com
---
The Power of...
kindness, gratitude,
empathy & positivity
Amazon
---
The Poison Keeper
The story of Giulia Tofana,
Renaissance poisoner.
Amazon
---
Ghoul of Sherwood
Robin Hood and his men solve
a grisly murder near a nunnery
Amazon
---
Captain Polo Saving the Planet
"Eco-adventure comics
for middle graders"
www.alanhesse.com
---