Editorial Reviews
It's so important to have a catchy review on the front and/or back cover of your 'soon to be published' or 'recently published' book. And, of course, on your Amazon Book Page under Editorial Reviews.
Click on the book title links below to see some of the editorial reviews we have organised for authors. If you would like us to organise a review for you, simply click here.
Magic Worlds, Two Worlds

By Shirley Moulton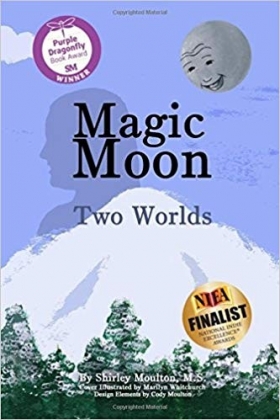 Buy on
Amazon
'A fun children's story full of magic and bravery!' The Wishing Shelf

I must say, there are many fun aspects to this short child's novel. The hero of the story, Tara, is brave, and there's plenty of pace from the start all the way to the exciting ending. There's also a lot going on and, up until the very final page, there is a measure of mystery and adventure.
This book is very much for younger readers, say 7 – 10 year olds; the writing style is simple, the author focusing on pace and not so much on setting and character development. Saying that, Tara develops the most in the story and, I must say, she's a very interesting hero, a hero most children will very much enjoy following.
The author works very well with speech. It is the most effective tool in this author's toolbox, helping her to further the plot and also to bring the important element of humour to the story which children enjoy so much. A light, fun book, I would think any child who is progressing up to chapter books will enjoy this. Short paragraphs, a character-driven magical plot and sparky speech, this will keep most 7 - 10 year olds engrossed.
If I were to be critical, I might suggest the author develop her descriptive skills. There is very, very little in the way of character or setting imagery which, I think, is a little sad. I sort of want to know what the characters look like, smell like, feel like and, as Roald Dahl often did, what they'd taste like in a stew! It would help the readers get to know the characters and, as a result, start to understand them much better.
But, all in all, a fun book with tons of pace. Most children would love it!

Sponsored Ads
NILE CAT
A YA historical thriller
set in Egypt
Amazon
---
SOUTH KOREA
The Price of Efficiency
and Success,
Amazon
---
THE TIFFIN
A novel this original is
1 in 6 million - Quill & Quire
Amazon
---
Book Of Greatness
A parable about unlocking
your destiny today.
Amazon
---