Editorial Reviews
It's so important to have a catchy review on the front and/or back cover of your 'soon to be published' or 'recently published' book. And, of course, on your Amazon Book Page under Editorial Reviews.
Click on the book title links below to see some of the editorial reviews we have organised for authors. If you would like us to organise a review for you, simply click here.
A Cheer for the Year

By Raven Howell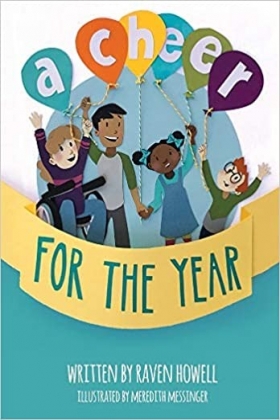 Buy on
Amazon
The Wishing Shelf Book Awards
8th December 2020
TITLE: A Cheer for the Year
AUTHOR: Raven Howell
ILLUSTRATED BY: Meredith Messinger
Star Rating: 5

'Punchy, superbly illustrated and packed full of fun.' The Wishing Shelf

REVIEW
I have enjoyed a number of picture books written by Raven Howell including So You Want a Puppy and Chuckles and Smiles and, you know what, I always award her books a 5 star. Sorry, but I can't help it. But I will tell you why.
The thing is, being a school teacher, I see so many rhyming books. And in so many of them, the rhyming and rhythm is terrible. The problem is, so many authors think writing a 600 word picture book is simple. It's only 600 words! But, the thing is, in a picture book, every word is important. And Raven Howell gets this.
She also understands how to delight a young child with fun, exciting, over the top, crazy words. She's like a modern day Roald Dahl; she knows how to play with language; how to have fun with language – and it's wonderful!
Okay, I'll shut up now. I'm like a Raven Howell stalker. So, to the story. Well, it's not a story, it's a 'celebration' of American (although not only American) holidays. For example, President's Day, St Patrick's Day (or St. Patty's!) and even Halloween. And, for each holiday, there's a short verse for the reader to enjoy.
The best way to describe the writing is 'Yummy!' Here's my favorite verse; it's for Halloween.
Ghostly, ghoulish
Carving, creeping, cackling
Doorbells ringing, black cats hackling
Haunting, hooting, howling,
Chilly, thrill-y
Boo!
I love the 'boo!' at the end.
So, who do I recommend this book to? Well, most children aged 6 – 8 would, I think, enjoy it. Adults too would find it fun. Wonderfully illustrated with plenty happening to keep every member of a family amused, this might prove very, very popular on President's Day, Thanksgiving, Christmas and so on and so on…
Sum it up in a few words: Children will love it. Adults will too!
A 'Wishing Shelf' Book Review

www.thewsa.co.uk

Sponsored Ads
THE MAGIC YOU DON'T SEE
Your chance to be the
vocalist in the book!
www.frontporchstorytelling.com
---
THE PINK DOOR
A sensitive caregiver's
roadmap for the last days
www.suziedaggett.com
---
Veilfall
A sword and sorcery
love story!
Amazon
---
May's Boys
Peace will take her boy
if their plan fails
Amazon
---
Pull A Funny Face
Promoting inclusion however
'different' someone seems.
www.amazon.co.uk
---
Home Alone Harry
Children picture book showing
how to care for a family dog
Thunkies
---