Editorial Reviews
It's so important to have a catchy review on the front and/or back cover of your 'soon to be published' or 'recently published' book. And, of course, on your Amazon Book Page under Editorial Reviews.
Click on the book title links below to see some of the editorial reviews we have organised for authors. If you would like us to organise a review for you, simply click here.
COMMON QUESTIONS CHILDREN ASK ABOUT PUBERTY

By LORI A. REICHEL, PhD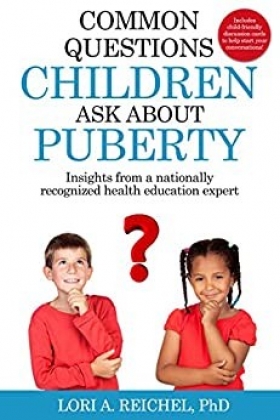 Buy on
Amazon
A WISHING SHELF BOOK REVIEW
31st May 2020
TITLE: COMMON QUESTIONS CHILDREN ASK ABOUT PUBERTY
AUTHOR: LORI A. REICHEL, PhD
Star Rating: 5 stars
Stats: Editing 9/10, Content 9/10, Writing Style 9/10

'Thoughtfully written and universally accessible, this is a bible for adults and older children who want to understand puberty. Highly recommended.' A 'Wishing Shelf' Book Review

REVIEW
Puberty can be a difficult, confusing time for teenagers. There are so many things they want to know, from the life changing 'How can a girl find the right sized bra for herself?' to the mundane 'Which parts of my body do I shave?' The problem is, where do they go to find answers? Well, I'm delighted I can recommend this book to them; and not just to them, but to the adults who must find a way of helping them.
Written in a relaxed, 'chatty' sort of way, this book is not complex. It keeps things simple. In fact, often there's only a short paragraph – or even just a sentence – clarifying things such as cramps, stubble and foster children. And it is this simplicity which is its strength. When a boy wants to know how to shave his face, they don't want to be hunting through paragraphs of waffle. They just want to know! This book offers this, and it is that simplicity which is unique.
I particularly liked the Puberty Chit Chat Cards in the back of the book. Designed to get children talking, they cover many aspects of puberty, from 'How will my life change after puberty?' to 'What is the difference between antiperspirant and deodorant?' I suspect this set of card will be particularly helpful to 'trusted adults' who must find a way of helping a child to open up on what many children will think are embarrassing subjects.
All in all, this is a bit of gem! Puberty can be such a difficult time for children and the adults looking after them. Any book that can help, particularly in such a succinct way, is a blessing.

A 'Wishing Shelf' Book Review
www.thewsa.co.uk

Sponsored Ads
THE GOA FILE
Thrilling historical novel set
in Argentina 1945 - 1982
www.goodreads.com
---
Yes and Pigs Might Fly
'Genuinely insightful'
FINALIST in the WSBA
www.amazon.co.uk
---
ICE QUEEN
YA romance about the dangers
of sexting & cyberbullying.
www.amazon.com
---
Practice Makes Better
Beautifully illustrated book
to foster growth mindset.
Amazon
---