Editorial Reviews
It's so important to have a catchy review on the front and/or back cover of your 'soon to be published' or 'recently published' book. And, of course, on your Amazon Book Page under Editorial Reviews.
Click on the book title links below to see some of the editorial reviews we have organised for authors. If you would like us to organise a review for you, simply click here.
THE DUNG BEETLES OF LIBERIA

By Daniel V Meier Jr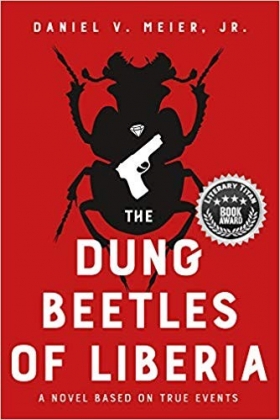 Buy on
Amazon
A WISHING SHELF BOOK REVIEW
10th Oct 2019

TITLE: THE DUNG BEETLES OF LIBERIA, A Novel Based on True Events
Author: Daniel V Meier Jr
Star Rating: 4 stars

'Perfect for anybody who enjoys a gritty thriller and a little African history too.' A 'Wishing Shelf' Book Review

REVIEW
Firstly, I must say the title is excellent. There's nothing better than a cleverly thought-out, enticing title that's sort of 'out of the box'. A wonderful title like this suggests to me the book is going to be pretty wonderful too. And I'm delighted to say, it is!
So, let's begin with the plot. Basically, the story follows a young man who, in the 1960s, suddenly jets of to Africa to work as a pilot. What follows is a well-plotted mix of oddball characters and a lot of (very) short take offs and landings. Ken, the (sort of) hero of the story is in many ways not a hero at all. In fact, in many ways, he's a bit of a selfish git. But he's on a steep learning curve in this well-paced novel. There's a long, long list of elements to this story, from political bribery to falling in love, from the Cold War to drinking and flying. And it's all written with a gold-tipped pen.
As it happens, I'm a pilot myself with thousands of hours in my logbook. So I very much enjoyed the 'flying' elements to the story. And, from what I remember, the author's got it right in terms of the technical aspects of flying and the way a pilot feels when he/she is trying to put the plane down on a short strip of runway.
In all all, this is a fun, exciting, often unpredictable adventure. The writing is pacey with a good mix of 'showing the setting' and 'keep things moving'. Personally, I felt the author was most comfortable with the flying parts, and not so much on any love interest Ken had or, indeed, the growing political problems of the country. But there's plenty in here to keep any reader interested, particularly if they have an interest in African history and also happen to enjoy a thrilling, often gritty adventure.
Enjoy!
A 'Wishing Shelf' Book Review
www.thewsa.co.uk

Sponsored Ads
THE BELIEF IN Angels
Two wounded souls find
courage, strength & resilience
www.books2read.com
---
WATER DRAGON
Illustrating the powerful
bond of friendship. 6-12 yrs
www.amazon.co.uk
---
The Moon Pigeon
It's one small hop
for pigeonkind!
www.amazon.co.uk
---
THE GOA FILE
Thrilling historical novel set
in Argentina 1945 - 1982
www.goodreads.com
---