Editorial Reviews
It's so important to have a catchy review on the front and/or back cover of your 'soon to be published' or 'recently published' book. And, of course, on your Amazon Book Page under Editorial Reviews.
Click on the book title links below to see some of the editorial reviews we have organised for authors. If you would like us to organise a review for you, simply click here.
Snake Food

By Kristin A. Fulton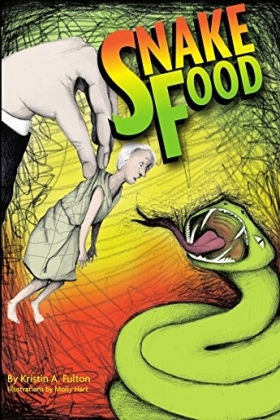 Buy on
Amazon
A WISHING SHELF BOOK REVIEW
1st September 2019
TITLE: Snake Food
AUTHOR: Kristin A. Fulton
Star Rating: 5

'A wonderfully exciting mystery adventure younger teenagers will love. Highly recommended.' The Wishing Shelf

REVIEW
How fun! Why? Well, the thing is, I love Enid Blyton. I do. I loved all of her books, from The Secret Seven to Malory Towers. So, for me, this exciting mystery/adventure for 9 – 14 year olds was right up my street.
So, what's the plot? Well, two children go to stay with a professor for the summer. But, when they get there, he's vanished. In his place, there is only the hired help, a housekeeper and a lab assistant. They insist the professor's on a trip but, of course, he's not. Or, the children suspect he's not. What follows is a gripping adventure, as the two - with a little help from a local boy - do all they can to outsmart two criminals intent on taking the professor's secrets and using them for evil.
This is very, very good storytelling. Like Enid Blyton, it has a comfy feel to it. Sort of, I don't know – 'safe' is possibly the word I'm looking for. For me, a 42 year old woman who hid in books for most of her teenage years, a book of this nature is like coming home; like putting on comfy slippers.
The writing style is perfect for this age group. Short paragraphs, not overly descriptive, and not too full of the terrible adverb! Regarding the plot, it's been cleverly planned so I think most teenagers will be surprised by the many twists and turns.
All in all, I'd happily recommend this gripping adventure to any and all 9 – 14 year olds, boys and girls. And, also, to any adult who fondly remembers The Famous Five and all that ginger beer!

A 'Wishing Shelf' Book Review
www.thewsa.co.uk

Sponsored Ads
LOVE EVERLASTING
Love, friendship, three
generations, a stunning secret
www.chrisbakosauthor.com
---
Pull A Funny Face
Promoting inclusion however
'different' someone seems.
www.amazon.co.uk
---
CON ARTIST DATING
Win against con artists
and true love is yours.
www.amazon.com
---
Sons of the Sphinx
If they fail, she could die
over 3300 years from home.
www.amazon.com
---
The Moon Pigeon
NASA report on 'MOON PIGEONS'
Discover the truth!
www.amazon.com
---
JUST FINISH!
"Inspirational, motivational
& captivating" New Runner
www.payhip.com
---