Editorial Reviews
It's so important to have a catchy review on the front and/or back cover of your 'soon to be published' or 'recently published' book. And, of course, on your Amazon Book Page under Editorial Reviews.
Click on the book title links below to see some of the editorial reviews we have organised for authors. If you would like us to organise a review for you, simply click here.
Aftershocks

By Phill Featherstone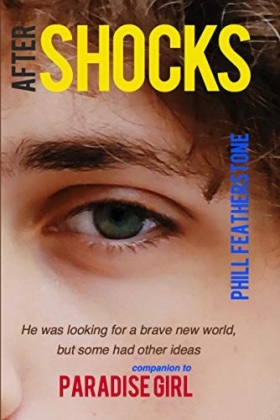 Buy on
Amazon
'A suspense-filled dystopian thriller packed full of twists and turns. Not only is it a gripping story, it's pretty scary too. Adults will love it; young adult too. Highly recommended.' The Wishing Shelf

REVIEW
I do enjoy a good dystopian thriller. I like them fast-paced, populated by strong, interesting characters, and, of course, it must have a twisting plot and a killer of an ending. I'm delighted to say Aftershocks by Phill Featherstone pretty much ticked every box.
So, let's begin by discussing the plot. Basically, it follows Lander Shaw, a farm boy who is living in a world devasted by a virus. Setting off to discover a better life, he is faced with the best of humanity – and the most terrible. What follows is a pacey thriller, packed full of twists and turns – oh, and a number of pretty interesting, superbly described 'end of the world' settings. There's plenty happening here to keep any dystopian fan turning the page. Personally, I enjoyed the last third of the story the most. It is by far the most intense, ending big and exciting, as any good thriller should.
The hero of the story, Lander, is an interesting character, perfectly cast as a loner trying to navigate his way in a dangerous world. He's pretty bright but he can also be a little indecisive. But that's not surprising considering how terrible the world is he now finds himself in. He's also vulnerable – important with any hero - open-minded and up for facing a tough challenge.
The writing style works well for this genre. It's not Hemingway; you never think, 'WOW! That character just jumped off the page.' But that's okay. The author keeps the focus on the plot, keeps things moving and, most importantly, keeps surprising the reader whenever she can. The writing style reminded me a little of Suzanne Collins: shot, sharp, powerful paragraphing, keeping things moving; keeping the reader immersed in the plot.
So, which book is this similar too? Well, it reminded me a little of The Hunger Games. As with Katniss, the hero, Lander, is smart, often shows empathy, but also is far from perfect. Also, as in most of Hunger books, there is a strong political undercurrent to the plot, a government in decline, which you will also find here.
To sum up, I would recommend this novel to anybody (YA and adult) who enjoys dystopian thrillers with a strong element of 'it might just happen'. In a world of Brexit and Trump, you just never know…
Enjoy!