Editorial Reviews
It's so important to have a catchy review on the front and/or back cover of your 'soon to be published' or 'recently published' book. And, of course, on your Amazon Book Page under Editorial Reviews.
Click on the book title links below to see some of the editorial reviews we have organised for authors. If you would like us to organise a review for you, simply click here.
Greetings

By Raven Howell (Author), Ann Pilicer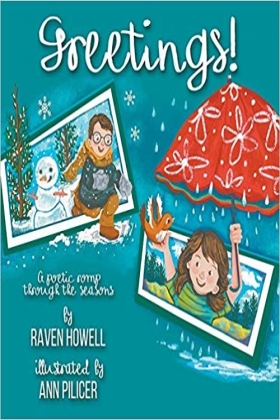 Buy on
Amazon
'Sweetly written and charming in every. Children will love it; parents too!' The Wishing Shelf

REVIEW
I must say, I had a very enjoyable evening tucked up by the fire enjoying this superbly illustrated children's book. Firstly, I must say, the drawings were excellent. In fact, not just excellent, they were stunning! The illustrator is fantastically talented at showing the reader everything they need to see to help them to not only understand the text but also to add to it. I find many picture books too 'Disney', but this book has a wonderfully 'classic' feel to it which I very much enjoyed.
Greetings by Raven Howell is not a story as such, but a rhymical look at the world as it slips from season to season. The imagery is vivid, the words simple, perfect for young children. There's also plenty of pace, and there's plenty to look at too – and discuss – to keep a child interested. The writing style, the rhyme and the rhythm, fit the book perfectly: simple, classic and working hand in hand with the drawings.
But, for me, the most striking element of this picture book was how the author put across so much in so few words. 'Crack, egg, crack. Sing, bird sing! Goodbye winter. Hello spring!' Many authors try to do 'too much' in a picture book; they don't understand that in a good picture book, the words and drawings work together to tell the story. Well, I'm happy to say, this authors understands this very, very well.
Enjoy!

Editing 10/10
Writing Style 10/10
Content 10/10
Illustrations 10/10

Sponsored Ads
MURDER ON CAYE ISLE
'A cleverly plotted thriller,
lots of sexy romance' WSA
Amazon
---
BELIEVE
An exciting, fantasy adventure
for all the family!'
Amazon
---
Grumpy & Lumpy Bears
A story in verse with
original antique photographs.
www.amazon.com
---
May's Boys
Peace will take her boy
if their plan fails
Amazon
---