Editorial Reviews
It's so important to have a catchy review on the front and/or back cover of your 'soon to be published' or 'recently published' book. And, of course, on your Amazon Book Page under Editorial Reviews.
Click on the book title links below to see some of the editorial reviews we have organised for authors. If you would like us to organise a review for you, simply click here.
A Fairly Fairy Tale

By Sunshine Somerville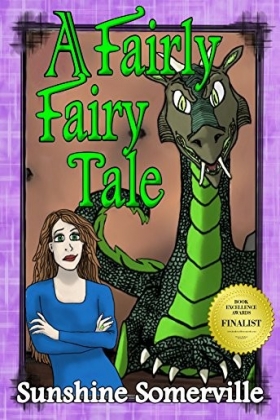 Buy on
Amazon
Stats:
Cover: 7/10
Story/Plot: 10/10
Writing Style: 10/10
Editing: 9/10

'Wonderfully witty and charming in every way. Highly recommended.' A 'Wishing Shelf' Book Review

There are many wonderful elements to this story but by far the best is the fact it is different. Being a parent, I often feel exasperated by the endless Disney films full of big-eyed, ridiculously skinny damsels being saved by a tall, handsome prince. Well this story is different. Not only is it very funny and wonderfully illustrated, but the message to children, particularly to girls, is a message parents will want them to understand.
The refreshingly simple and often very clever writing style adds a lot to the story. The author has excellent comic timing and the book is full of little gems that will make any child giggle. I particularly liked this: If you looked up "prince" in the library scrolls, his picture would be there (literally, because he'd drawn pictures of himself in the scrolls as a kid).
There is a vast array of characters in the book, and most of them are interesting and well-developed. The author seems to know her characters very well, even if they were only in it for a line or two. I was particularly fond of Prince Nolan and the wily Princess Littagale; both are richly devised and have a depth often only discovered in books thirty chapters longer.
However, I must admit, I did not love the illustrations. They were okay but they looked a bit amateurish to me; almost too simple, too computer-generated, and they paled compared to the cunningly devised plot and rich character descriptions.
So, would I recommend this book? Absolutely! I would think any child aged 9 – 13 would find the characters intriguing, and the plot mesmerizing. Also, and this is important, I think parents would not only enjoy it too, but would be happy with the message cleverly hidden away in the folds of this quirky fairy tale.
I always like to end on my 'favourite line' Well, this is it: Littagale made a face. "But it's such an archaic tradition." "It's the tenth century, dear. Everything's archaic."

Sponsored Ads
Grumpy & Lumpy Bears
A story in verse with
original antique photographs.
www.amazon.com
---
STUFF
An amusing romp through
the history of chemistry.
www.amazon.com
---
The Strange Woman
Witch trials, feminism,
farming and wildflowers.
www.sheepshedpress.com
---
PAPA & PAWS
Cute doggie illustrations
& heartwarming stories
www.papaandpaws.com
---
MATILDA SEER
Where your name is,
there lies your power
www.amazon.com
---
Raindrops: How Meditation...
Searching for spiritual
stability and mental health.
Facebook
---