Editorial Reviews
It's so important to have a catchy review on the front and/or back cover of your 'soon to be published' or 'recently published' book. And, of course, on your Amazon Book Page under Editorial Reviews.
Click on the book title links below to see some of the editorial reviews we have organised for authors. If you would like us to organise a review for you, simply click here.
Fallen From Grace

By Kimberly Marasco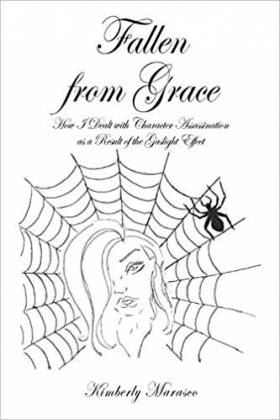 Buy on
Amazon
THE WISHING SHELF BOOK AWARDS
18th May, 2019
TITLE: Fallen From Grace
AUTHOR: Kimberly Marasco
Star Rating: 5

'The gripping, often shocking story of a woman battling stigma in corporate America. Highly recommended.' The Wishing Shelf

REVIEW
This is a very well-written look at the American corporate world and what often happens when 'nobody is looking'. Written by Kimberly Marasco, it's a no-holds barred and often very in-depth study of the psychological effects of gas-lighting, how devasting it can be and, to a lesser extent, how to combat it.
Being a consultant myself, I settled down with this book with interest. I too have been met with bullying and unethical conduct in my work and even now, after so many years, it is still a shock. Of course, most of the time the people I work with are hard-working and honest, but just as in the world of selling or, for that matter, the Catholic church, there is always a 'bullying' element. It seems to me that what Kimberly is attempting to do is to warn the reader that is exists and to help them to spot the 'snake pits' before it destroys everything they have worked so hard to create.
And, I'm delighted to say, Kimberly succeeds in every respect. Firstly, she keeps jargon to a minimum making the text accessible to all levels. Secondly, she knows what she wants to do and works to fulfil that target. As a result, the book is not overly long and keeps to the central message from beginning to end. Thirdly, and this is by far the most important, the author has worked in the 'real world' for a long time so what she's telling the reader regarding the adversity she faced actually happened and will probably keep on happening, so you had better watch out.
I would think this text would be of interest to any students studying ethics, law or, for that matter, any company-related degree. I would also think anybody who is thinking of setting up a company or working in HR would find this an eye-opener. It's always best in life to know what to expect, particularly if it might result in the loss of everything you have worked so hard for. See this book as a way of preventing that.
Editing 10/10
Writing Style 9/10
Content 10/10
Cover 9/10
Sum it up in a few words: A 'bible' for anybody battling bullying and adversity in the workplace, and the resulting stress.

A 'Wishing Shelf' Book Review
www.thewsa.co.uk

Sponsored Ads
The Staten Island Butcher
Priest tries to rescue
student from serial killer
www.georgerhopkins.com
---
INDIE BOOK SOURCE
Support & promotion incl.
webpage & 1 yr. promo
www.indiebooksource.com
---
BEWITCHER
'Potent. Gripping.
A Jaw-Dropping Shocker'
www.amazon.com
---
MY COMMUNITY
Celebrate diversity -
Come meet our community!
www.mcp-store.com
---